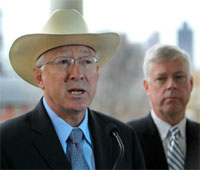 The controversial Cape Wind project now has every federal permit it needs to start construction in the fall, U.S. Interior Secretary Ken Salazar announced yesterday.
The approval of an 800-page construction and operations plan for the 130-turbine project in Nantucket Sound was widely expected, but Salazar traveled to Boston to make the announcement, saying it illustrates the Obama administration's commitment to wind power, especially along the blustery Atlantic Coast.
"This is an important final step," Salazar said at the Charlestown Navy Yard, wearing his signature cowboy hat. "We are even closer toward ushering in our nation's first offshore wind energy facility while creating jobs."
Yet opponents at the press conference said they would not relent in their quest to kill the wind farm, saying there are 11 lawsuits to block the project.
"They are attempting to declare victory in a war that is far from over," said Audra Parker of the Alliance to Protect Nantucket Sound, the main group opposing the project since it was first proposed more than 10 years ago.
While Cape Wind has found a buyer for 50% of its power output, it has not done so for the remainder, raising questions about whether all 130 turbines will be built.
The federal approval was announced as the state proposed to redefine another ocean area being considered for an offshore wind project.
The state wants the federal government to remove about half of a 3,000-square-mile area in waters south of Massachusetts from potential wind power development to protect fishing grounds that scientists and fishermen have identified as vital.
Richard K. Sullivan Jr., state secretary of energy and environmental affairs, said the state had made a proposal to make Massachusetts the nation's offshore wind energy leader "while safeguarding waters important to our commercial fishing industry."