U.S. oil production is on course to rise this year, independent forecasters believe, despite drilling delays to in the Gulf of Mexico, as the boom in the onshore oil industry offsets the slowdown offshore. The six-month moratorium on deepwater drilling in the gulf, and the slow pace at which permits for wells have been issued since that ban ended in October, have brought complaints from the oil industry and inspired Republican attacks on the administration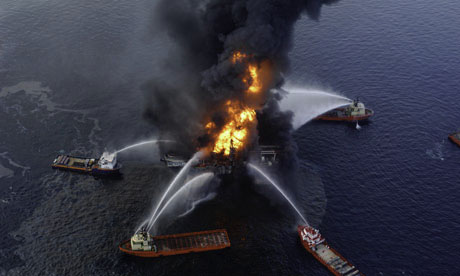 On the first anniversary of the explosion on the Deepwater Horizon drilling rig that killed 11 men and untold species, there were memorials for the dead and protests from environmental campaigners.
U.S. President Barack Obama said his administration was "implementing aggressive new reforms for offshore oil production in the Gulf, so we can safely and responsibly expand development of our own energy resources."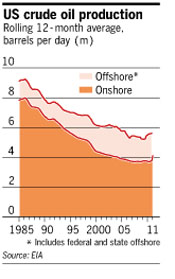 While U.S. oil production, undoubtedly, has been affected by the drilling disruption, the net effect has been relatively modest.
Although U.S. offshore output will likely decline this year, the strength of onshore production, driven by the Bakken Shale region centered on North Dakota, means several private sector forecasters expect the country's total output will rise again, as it has in recent years.
The EIA has forecast that U.S. crude oil production will drop by an average of 30,000 barrels per day (bpd) this year and a further 120,000 bpd next year, largely due to a decline in the GOM.
However, both IHS Cera and Wood Mackenzie, two leading energy consultancies, expect that total U.S. production—using a broader definition that includes related liquids, as well as crude oil—will rise this year, albeit at a slower rate than in 2010.