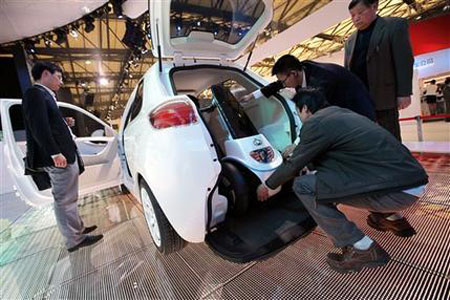 The toy-like electric vehicles (EVs) at the Shanghai Auto Show are a glimpse of the high-tech automotive future China's leaders are pursuing—and a harbinger of possible disputes with its trading partners.
Geely's two-seat McCar, Dongfeng's Shuaike microvan, Chevy's four-seat M1 REEV and others promise a range of more than 60 miles. Most are still in development but some are appearing on China's streets.
Beijing sees EVs as a field where it can take a global lead, helping to transform China into a technology creator. But while it pushes its fledgling automakers to create their own products, it also has alarmed global producers operating in China by pressing them to hand over know-how and limiting access to its market.
Draft investment rules issued last month would allow foreigners to own only a minority stake in Chinese EV component manufacturers. Next month, Beijing is due to release a 10-year industry development plan for "New Energy Vehicles," and automakers worry it will impose further curbs on production or imports.
Foreign manufacturers are concerned Beijing might require them to surrender valuable technology and help local partners create "indigenous brands" in order to sell EVs in China.
"They certainly worry about that," said JD Power & Associates' John Zeng. "They're still at the stage of investing heavily in R&D. Right now, they're not ready to transfer technology."
Beijing already requires that its local JV must own the technology for one of the three "core components"—the battery, motor or power-management system if foreign manufacturers want to produce an EV in China.
Developing powerful but safe batteries has been a key challenge for Chinese automakers. Batteries in Chinese cars have exploded more than 10 times during development,
Caijing
business magazine reported this month.
"This makes drivers not dare to drive these cars," the magazine said.