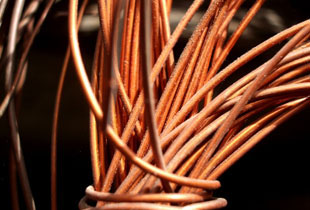 LME copper prices rose for the first time in six sessions Tuesday. Monday marked copper's sixth straight daily loss and its longest losing streak in since June, after Standard & Poor's put a "negative" outlook on the AAA credit rating for the U.S. Copper's downside was limited by expectations of a supply deficit this year and an optimistic long-term demand outlook.
S&P threatened on Monday to downgrade the U.S. AAA credit rating, citing a "material risk" that U.S. leaders will fail to deal with rising budget deficits and debt. Further negative support for copper came as China again raised banks' reserve requirements and U.S. homebuilder's confidence in the housing market dipped, dropping to 16 on a scale of 100 this month from 17 in March. Construction accounts for 25% of copper demand, according to the Copper Development Association. The People's Bank of China announced yesterday that it will raise reserve requirements, the fourth time this year, by half a point on April 21. Authorities are moving to cool inflation, which is running above the government's target.
Chinese stocks of copper continued to disrupt the market, with Shanghai copper trading at a discount of around ¥1,300 to LME prices. Macquarie estimated there were ~550,000 tons of copper in bonded warehouses. "More than half of the material sitting in the bonded warehouses belongs to trading houses using copper imports as a method to get cheaper sources of finance . . .," Macquarie stated. "The rest of the copper is bought directly by domestic consumers from overseas suppliers."
Increasing copper inventories have sparked concerns over short-term demand weakness from top consumer China. LME copper inventories rose 175 tons to 451,950t—its highest since June. Copper was in a $21.50 contango, a discount for cash over three-month material, from December's $70 backwardation.