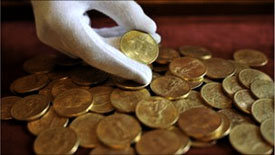 A hoard of gold coins smuggled to London by a Jewish man who fled Nazi Germany will be returned to his descendents. Max Sulzbacher's family buried the jar of Double Eagle gold dollars in the garden of their home in Hackney, but they were killed when a bomb hit their house during the Blitz, taking the details of where the coins were with them.
Now being sold, the coins are expected to fetch £80,000 at auction. They were minted between 1854 and 1913, and will be available to bidders at Spink auctioneers in Bloomsbury, London.
Ill-Fated
The coins were found wrapped in greaseproof paper by Terrence Castle in NE London in the summer of 2007 while he was digging a frog pond in the property's garden. Sulzbacher, 81, a retired chartered accountant who lives in Jerusalem, said he would be using the proceeds of the sale to give the finders of the coins a reward and restore his family's gravestones. He said he was "surprised and delighted" by the find. His father, Martin, smuggled the coins to England after selling the family's possessions in Germany.
While fighting the war, his mother, father, brother, sister and sister-in-law remained in London and buried the coins before being killed by a German bomb.
On his release, Martin Sulzbacher unsuccessfully had the garden searched. Some identical coins were found at the property in 1952 and he was able to claim them; that information helped the British Museum, coroner and Museum of London trace Max Sulzbacher this time.
Unique and Compelling
Coroner Andrew Scott Reid ruled the coins were treasure and that Sulzbacher, as an heir, was entitled to them. The coins are on display at the British Museum until the end of the week and one will be donated to the Hackney Museum.