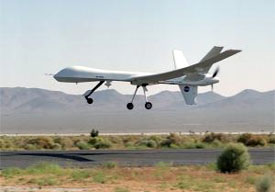 Unmanned military aircraft running on lithium-ion (Li-Ion) batteries received a boost for future development with a new a U.S. Air Force contract to fund work on longer-lasting and cheaper batteries.
Military industry analysts see lithium-ion batteries as a major, stable source of power for operating small- to medium-sized machines. Success with the ongoing research will mean that lithium-ion batteries could also run consumer items at lower costs and with greater efficiency than now.
The $750,000 Air Force contract will be used for further research on developing the innovative nanomaterial-enabled power system for use in small- to micro-unmanned aircraft systems.
Varieties of UAS are seen as military craft of the future; they are less controversial than human-crewed craft. Li-Ion batteries are generally regarded as a green technology due to their virtually indefinite recharge capability.
Lithium ions in a lithium-ion battery move from the negative electrode to the positive electrode during discharge and back when charging. Unlike pure lithium batteries, which aren't chargeable and create waste, Li-Ion electrochemical cells use an intercalated lithium compound as the electrode material instead of metallic lithium.
Lithium-ion batteries, common in consumer electronics, need to be denser with a slower power release to be useful for military vehicles, particularly UAS, and need to be cheaper to run when scaled up for military uses.
Research into lithium iron as a high-capacity power source has fed into a rising global lithium demand. Several Latin American countries have welcomed investment to develop their lithium reserves.
Prices for lithium have risen amid intense competition among automakers to develop electric vehicles.
It may be awhile before cars running efficiently on lithium-ion batteries hit the road but the lighter unmanned aircraft may be the decisive next step in developing the metal's full potential as a major source of power for environmentally friendly transport.