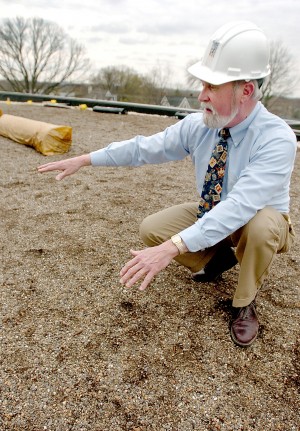 Area businesses and organizations are taking green architecture to new heights—and new lows.
Walk into these facilities, and you may not realize there's vegetation above your head or perhaps a geothermal heating system below your feet.
In some ways, such overhead and underground features are out of sight, but they're never out of mind.
Traditional building has a huge impact on the environment. Buildings represent 72% of U.S. electricity consumption; use 13.6% of all potable water; and consume 40% of raw materials globally, according to the council.
But sustainable architecture has been growing steadily through the years. The Green Building Council notes that in 2005, the green market represented a mere 2% of nonresidential construction. By 2010, they say, it grew to be 28% to 35% of the nonresidential construction market. The council projects that by 2015 that green building percentage could soar to nearly half of all new nonresidential construction.
Investing in green technologies, which often have a higher initial cost, can pay off in the long run. Green buildings consume 26% less energy than their traditional counterparts, and have 13% lower maintenance costs, according to the Green Building Council. [
pictured right: The Mercer Museum's living roof will provide storm water management, reduction of heat island effect, and improved views of the building.
]