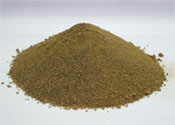 Trouble in North Africa and the Middle East, environmental issues in the U.S. and shrinking exports from China mean there could be a "chronic" shortage of phosphates, used as a crop fertilizer, Profercy Phosphates & NPKs editor Tom Jago said Wednesday. And this is while the world is still facing a food crisis.
Phosphates, like potash, are added to soil to boost crop yields and are most commonly traded in the form of diammonium phosphate (DAP).
"The phosphate market has suffered some quite serious supply shocks," Jago said.
First, China has imposed a supertax for most of the year on DAP exports, leaving only a small window when producers have to compete for space at busy ports to sell their products to overseas customers.
This year, the tax window runs from June to September, and China will struggle to reach the 4 Mt. level it managed last year, Jago said, adding, "Chinese exports will be progressively declining."
Given that the global market is 15 Mt./year, removing Chinese exports could have a big impact.
The second factor he discussed was the recent upheaval in North Africa and the Middle East, which he said accounts for 80% of global phosphate resources.
Tunisia, a major supplier, closed production for three months as a result of the turmoil sweeping across the region.
There is new supply set to arrive later this year from a project in China and a major project in Saudi Arabia, but he said this would not change the situation much.
"The net gain is going to be swallowed up in pretty ferocious demand," said Jago.
Where does this leave prices?
Jago predicted the price of DAP would climb nearly 5% from current levels to around $625/t this quarter.