Germany held talks this week with Kazakhstan about a commodity supply partnership focusing on metals, the German Economy Ministry said on Thursday.
The German government approved a new commodities strategy in October 2010 aimed at helping domestic industry secure raw materials at a time of growing global competition for supplies, which includes seeking partnerships with supplier countries.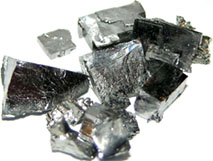 A German government-led delegation, including industry representatives held talks in Kazakhstan, which, it is hoped, will lead to an agreement guaranteeing German companies discrimination-free access to commodities produced by Kazakhstan, involving non-energy commodities—especially metals and minerals.
"In the forefront of this will be critical raw materials, such as tungsten and tantalum," it said.
Tungsten is used in electronics, catalysts and production of hard metals for armor plate.
Tantalum is a metal used in alloys often used in electronic equipment, such as computers, mobile phones and home electronics.
Consumers in many industrial countries have noted with concern how commodity-hungry China has been buying up supplies of raw materials, especially rare ores and earths while restricting its own exports.
Germany is supporting the creation of commodity partnerships with key supply countries, but actual raw material deals must be agreed by companies alone.
It is hoped a commodity supply agreement with Kazakhstan focusing on minor metals will be reached in the first half of this year, the ministry said.