As analysts and investors seek clues to the strength of the recent rally in commodity prices, some are taking a closer look at the copper market, where warning signs are emerging.
Copper prices have almost quadrupled after a two-year rally, largely driven by the belief that China, the world's largest copper user, has an insatiable appetite for the metal.
But Chinese buyers are now higher prices and government moves to tighten credit. Recent evidence has surfaced of previously unreported copper stockpiles—a sign that much of the purchased copper hasn't been put to use. The stash is estimated to be ~1 Mt. (~15% of China's annual consumption).
Because the metal is used in myriad industries, strong demand often indicates that the overall economy is expanding.
Since reaching an all-time high of $4.6230/lb. on Feb. 14, copper's rally has stalled. At one point, the metal was down 11% from its high though it clawed its way back to close at $4.4950 Friday on the NYMEX.
China's government doesn't release official commodity inventories readily, forcing industry watchers to physically scouting warehouses or find government sources to ascertain just how much copper has actually been used.
Some speculators will be forced to sell their copper as a result of higher financing costs, while consumers are likely to keep their inventories low to save capital.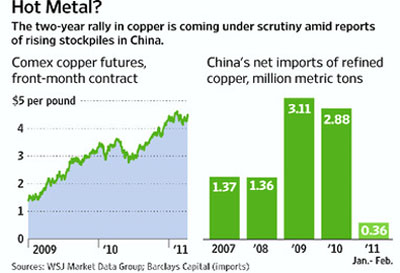 "The risks now appear, for the first time in quite a while, to be skewed to the downside," said Stephen Briggs, senior metals strategist of BNP Paribas.
Much of copper's surge since the middle of last year has been driven by the widely held belief that demand will exceed mining output this year, and that China will be forced to bid up prices to feed its growing economy.