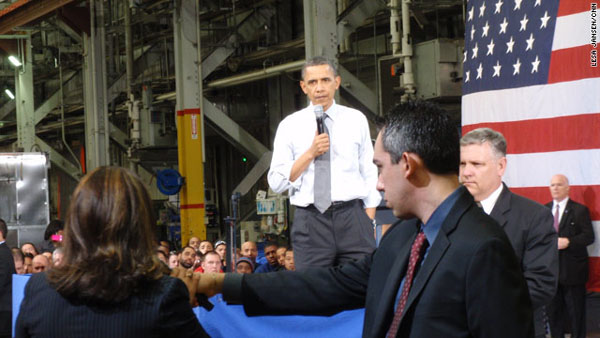 As a federal government shutdown looms, President Obama Wednesday criticized congressional Republicans for injecting ideology into the budget debate and holding up a deal on funding the government for the rest of the year. "Right now we need to pay our bills, and the government needs to stay open," the president told workers at Gamesa Technology Corporation, a Pennsylvania wind turbine factory.
The comments were made at a town hall where the president tried to focus his message yet again on clean, renewable energy. "We are going to get 80% of our electricity from clean sources," Mr. Obama said. "If we follow through on this, if we tackle this challenge, our economy will be less vulnerable to swings in oil prices our nation will no longer be beholden to the country we now rely on for oil imports."
Gamesa Technology Corporation is part of a Spanish company and the White House says it is the first overseas company to set up wind production facilities in the United States. The company employs 800 workers at facilities which are part of an abandoned U.S. Steel plant. It built one of Pennsylvania's largest wind farms on the Allegheny Ridge farm.
Wind turbines are used to generate energy that is then turned into electricity. Wind energy accounts for 3% of the electricity generated in the United States.
Wednesday, as the White House press charter passed a local gas station in Fairless Hills, the price of a gallon of regular was $3.75.