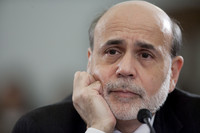 Federal Reserve policy makers last month differed over whether to begin removing record stimulus this year as they debated the path of monetary policy after the completion of their $600 billion bond-purchase program.
"A few participants indicated that economic conditions might warrant a move toward less-accommodative monetary policy this year; a few others noted that exceptional policy accommodation could be appropriate beyond 2011," the Federal Open Market Committee said in minutes of its March 15 meeting, released today in Washington. "Almost all" Fed officials also saw no need to "taper" Treasury buying after June, jettisoning their prior strategy of reducing the pace of purchases while stretching out their duration.
Since the meeting, the labor market and inflation readings have picked up while growth in service industries slowed. Some regional Fed presidents who were skeptical of the monetary stimulus have talked about the need to tighten credit, and Chairman Ben S. Bernanke has yet to indicate his preference for the Fed's next move after finishing the bond buying.
While the decision to continue the purchases was unanimous, the Fed said a few of the 10 voting members of the committee thought evidence of a stronger recovery, higher inflation and rising inflation expectations "could make it appropriate to reduce the pace or overall size of the purchase program." The minutes said that "several others" said they "did not anticipate making adjustments."
In releases since the Fed's meeting, the Commerce Department reported that the central bank's preferred price measure, which excludes food and fuel, was up 0.9% from a year earlier in February, the most since October. Including all items, prices rose 1.6%, compared with a 1.2% 12-month increase through January, the biggest monthly increase since December 2009.