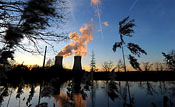 The commission tasked with reviewing the future of nuclear energy in Germany has begun its work. The commission's chairman has expressed concern that phasing out nuclear power could cause social inequalities.
Berlin's review of its policy toward nuclear energy should avoid causing an increase in electricity prices that could sharpen social inequities, said Klaus Töpfer, Germany's former environment minister, on Monday.
Töpfer chairs the ethics commission tasked with making recommendations about the future of nuclear energy in Germany, one of the world's largest economies.
The 17-member commission, which began its work in Berlin on Monday, was set up by Chancellor Angela Merkel in the wake of the Fukushima nuclear crisis in Japan. It brings together representatives from politics, science and religion.
"It's not enough to simply say we're turning off the switch," Töpfer said. "We have to solve this in a way that doesn't tolerate social dislocations."
"We have to realize that energy prices are a major burden to many people's incomes," he continued.
Earlier, the Association of Energy and Water Industries had claimed that Germany, traditionally a net electricity exporter, had become a net electricity importer as a result of a government-ordered nuclear moratorium that took effect nearly a month ago. This claim, however, was contradicted by the Environment Ministry.
Future of nuclear power
Chancellor Merkel ordered the three-month moratorium on Germany's seven oldest nuclear reactors in the aftermath of the Fukushima nuclear crisis.
During the moratorium, the ethics commission will hold consultations on the feasibility of phasing out nuclear energy as soon as possible. The commission will then issue a final report in May after receiving the results of a safety review of Germany's 17 nuclear reactors.