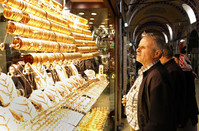 Turkish Prime Minister
Recep Tayyip Erdogan
is struggling to persuade the nation that their banks are as good as gold.
For every Turk who saved in a deposit account last year, three opted for gold or cash, a December MasterIndex survey showed. Those who deposit their lira at banks refuse to do so for more than a few months, according to the survey commissioned by MasterCard Worldwide.
Failure to align deposits with increasingly long maturities of bank loans may put banks at risk, marring Erdogan's nine years of record economic growth and market performance. Inflation slowed to 4.2% in February from about 70% in 2002, the year Erdogan's party came to power.
"It's hard to change ingrained behavior and Turks like to remain liquid," said Michael Gomez, co-head of emerging markets at Pimco, manager of the world's biggest bond fund. "One would be remiss not to pay attention to depositor behavior. They have been through many cycles."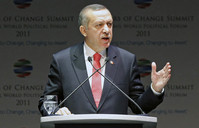 It's getting worse. The average maturity of lira bank deposits fell to 1.7 months in 2010, from 2.8 months in 2002, when Erdogan, who's seeking re-election June 12, first came to office, according to Turkish central bank data.
Erdogan is trying convince 74 million Turks that he's put an end to decades of instability. Prior to his two-term-old administration, the average government lasted 16 months, he commented.
"This is a generation who lived through extremely high, chronic and volatile inflation, without knowing what interest rates would be even a week ahead," said Eli Koen, the co-head of emerging Europe equities at Union Bancaire Privee in London and manager of $65 million in the Turkish Equity fund. He says Turkish banks are an "exciting long-term growth opportunity." Turkish authorities are "absolutely right" to try to shift the maturity structure.