Over the past couple months, everyone seems to have been preparing for a sharp market correction. Crazy part is that the SP500 dropped about 10% from the high, and that is a typical bull market correction. The thing is. . .the stock market has a way of slowly unfolding, making it look and feel minor. Then, before you know it, the correction is over and it's back to an uptrend. That is kind of how this one unfolded.
The good news is that we caught the low-risk portion of the correction locking in a 4.5% drop, and we are now in a long trade and in the money by 2.5% with very little downside risk at this point. Time will tell if this uptrend is sustainable or not.
Now, let's take a look at the charts. . .
U.S. Dollar 60-Minute Intraday Chart
As you can see, the dollar looks to have started a breakdown today. If there is continued selling pressure in the next couple days, expect to stocks and commodities to move higher as the USD drops. It is important to know that when a bullish pattern fails we typically see a very strong reaction in the opposite direction (down) catching the majority off guard and they rush to the door.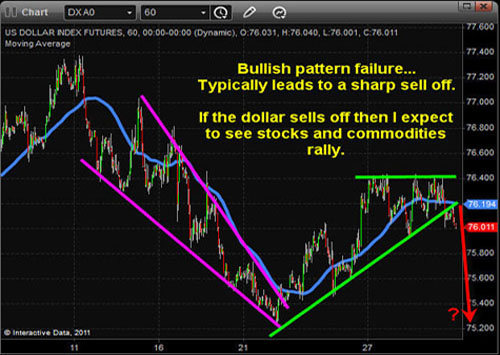 SPY Broad Market ETF—Daily Chart
A couple weeks ago, we watched the market go into freefall that created a washout bottom. From there, we saw prices bounce back and retake my key moving averages. This gave us a bullish bias, and dips should be looked at as buying opportunities. I will admit that stocks still have a long way to go before the masses are convinced. I feel we need to see the February and March highs get taken out first. Once they get taken out, there should be strong buying because short covering (protective stops from traders who are short) causes a surge in buying pressure—sending stocks sharply higher yet again.
My trading buddy David Banister at
Active Trading Partners
is starting to see small-cap stocks come back to life. Money is starting to flow into these lucrative areas of the market, and he is on top of things. This week's trade is up 20% in less than 24 hours, which is very exciting.
Gold Daily Chart
Gold has been moving up this year, but the current price action is not getting me excited to buy just yet. Recently, we have seen strong selling volume and very light buying volume. My bias still favors higher prices, but there is still a good chance we get another dip in the coming sessions.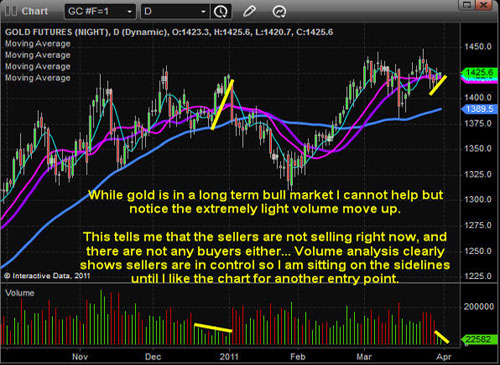 Midweek Trading Conclusion
I feel as though the dollar will trigger the next wave of buying in stocks and commodities for the next week or two. We should see the USD make a clean move in either direction shortly and that will help guide my analysis, positions and setups. I hope this analysis helps you to see the market from a different perspective.
Get my midweek reports free please join my free newsletter
here
.
Chris Vermeulen
www.thegoldandoilguy.com