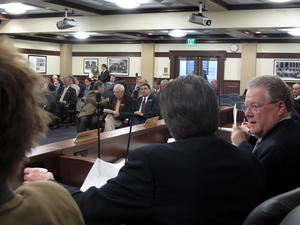 Wind energy developers with projects nearing completion are closer to winning tens of millions of dollars in tax breaks after a legislative committee voted Wednesday to send a bill to the House floor.
The measure was approved on a 12–5 vote in the House Revenue Taxation Committee. It includes extending the rebate for geothermal, manure digesters and other alternative energy projects until 2014.
The compromise was backed by utilities only because it includes provisions that force all future wind and solar projects to negotiate prices with power companies, rather than demand an attractive, state-mandated rate.
"This is not a pell-mell extension of the wind rebate," Bedke said. "From now on, solar and wind in the state of Idaho is going to be negotiated. It's not going to be forced into someone's portfolio."
The original sales tax rebate was passed in 2005 and will likely result in well over $50 million in tax breaks, mostly for big wind farms.
With the extension, alternative energy developers that buy equipment to directly generate electricity would get their 6% sales tax payments back from Idaho, provided their projects are operating by Dec. 31, 2014.
But wind developers must win contracts for their power by this Oct. 31, meaning projects that aren't nearing completion won't qualify. Wind industry lobbyists told lawmakers that some projects nearing the finish line have been counting on the sales tax rebate—and could be scuttled if the four-month extension isn't approved.