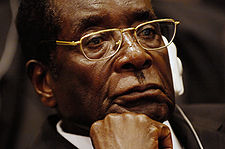 Investors (and speculators) hot-footed it out of platinum miners active in Zimbabwe following news that foreign miners in the country had 45 days to explain how 51% of indigenization would take place.
In mid-2010, President Robert Mugabe told a mining conference that the key to unlocking opportunities in Zimbabwe's mining sector lay in flexibility. Mugabe said government had "accepted the principle of empowerment credits" as an integral component of the 51% equity that Zimbabwean citizens are required, on the face of it, to hold in enterprises where foreign investors are present.
Reacting to what had been another round of investor sell-offs, Mugabe said he was "amazed by the rush of negative publicity." Credits would allow the foreign investing mining company to claim against the 51% requirement, in the form of offsets. Mugabe said that credits' primary initiatives include the areas of (local) procurement, capacitating industries, and fostering new companies owned by indigenous persons.
Further credits can be claimed for corporate social investment in communities, which "creates a visible platform for local empowerment, thus achieving broad-based and transformative empowerment." Credits are also available for initiatives such as construction of dams and irrigation schemes, and approved scholarship and skills development programs.
Back at the mining conference, Mugabe told the annual general meeting of the Zimbabwe Chamber of Mines that "government has no intention of expropriating the mining industry. No mine has been nationalized since independence." On the contrary, Mugabe, infamous himself for land-grabs, declared that "recapitalization of the mining industry remains an immediate imperative."