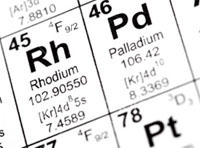 Canada's New Westminster has seen a sharp rise in the catalytic converter thefts, which are stolen from vehicles because they contain precious metals (PMs) that fetch up to $6,000/oz.
New Westminster Sgt. Gary Weishaar said Thursday that it's a problem across Metro Vancouver and BC.
"It's a crime that's really increased in the Lower Mainland, BC, Canada and North America," he explained. "In the States, there are squads that just deal with catalytic converter thefts."
New Westminster had nine pollution-control-device thefts in 2009, but has had the same number in the past two months. Eight thefts were from Toyota SUVs and one a Mazda MPV minivan.
It appears Toyotas are the prime targets because their catalytic converters contain more precious metals.
The three PMs thieves are seeking are platinum ($1,000/oz.), palladium ($320/oz. and rhodium ($6,000/oz.).
There are small amounts of each in the devices, he said, adding thieves get between $50 and $100 from unscrupulous scrap metal dealers.
Thieves use a cordless reciprocating saw and wrenches to cut off the converters.
"It can be really expensive for people who might have to replace their entire exhaust system," he said, adding, "most happen at night."
Information posted on the Internet by victims suggests thieves can steal the devices within two minutes.
Vancouver Police Constable Lindsey Houghton said Thursday he would check on the number of device thefts in Vancouver but suggested it may take more than a day. Similarly, Vancouver RCMP headquarters did not have readily available figures.
Insurance Corp. of BC Spokesman Mark Jan Vrem said ICBC doesn't have a separate category for stolen catalytic converters in its theft from auto statistics.