China is hiking taxes on rare earth elements (REEs), moving to slow the export of minerals that are key to current high-tech devices.
The tax bureau said Thursday taxes will rise either to ¥$30 (~CAD$4.50) or ¥$60 yuan (CAD$9) per ton, depending on whether the elements are categorized as light or heavy. That's up from just 0.5 and 3 yuan per ton, respectively. The new rates come into effect in April.
The move follows Beijing's decision in December to slash the total amount of REEs it will export by about one-third, to 30,000 tons per year (tpy).
China is believed to hold about 30% of the world's rare earth deposits, but accounts for 97% of global production.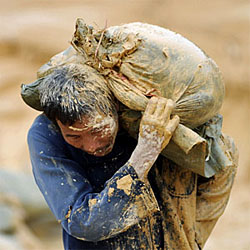 A laborer works at at an REE mine in Nanchang, China (2010)
Despite the name, rare earths are not all that rare—some are more prevalent in the earth's crust than copper. But finding them in amounts dense enough to mine economically, near the right infrastructure and in mining-friendly jurisdictions can be tricky.
Demand is forecast to increase by about 15% per year, primarily because the elements are integral to the next generation of energy-efficient batteries and power sources. Prices have already increased by an average of 700% for the metals over the past decade.
In addition to the environmental costs of mining them, it's believed China's move to limit exports is more of a political move aimed at encouraging foreign companies to set up processing facilities inside the country. But China's dominance is sure to erode regardless—a recent report by CIBC predicts China's output will decline by 20,000 tpy by 2015 and the country, eventually, will become a net importer.