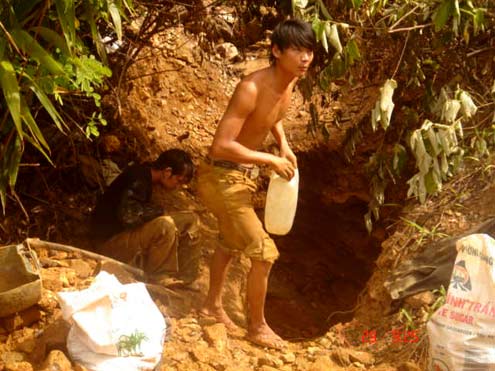 The Bong Mieu gold mine in Tam Lanh commune, Phu Ninh district, was originally a jungle. The landscape is now dominated by hundreds of deep holes: thousands of tons of ore have been mined at this site.
Bui Quang Minh, Tam Lanh commune's chair, said that the number of illegal gold miners in Bong Mieu has risen from less than 100 to thousands, with women making up 30% of this workforce. They build camps and bring diesel engines and drilling machines to the site to mine gold.
Minh said these people not only destroy the natural habitat but also cause water pollution and social chaos. Many gangs are ready to fight over gold ore.
Many accidents have been recorded here. In the latest case on March 14, two young men were buried when their trench collapsed. One died and one was wounded seriously.
"We have combined with police to make raids on unauthorized miners but we cannot fully control illegal mining activities," Minh admitted.
Vo Hoang Anh, the chief guard of Bong Mieu gold mine, who has worked at the mine for nearly 20 years, also said that the local authorities are helpless to control illegal miners.
"We just detect them and drive them away and cannot do anything else. Though illegal mining is very dangerous, they are flocking to the mountain for gold," Hoang Anh said.
The mine general director, Tran Ha Tien, said that to thoroughly deal with illegal mining, a long-term strategy is needed.
So far this year, the local authorities have made two raids to stop illegal miners, seizing machines and equipment, collapsing 20 camps and over 20 trenches and driving away nearly 200 people from the site.