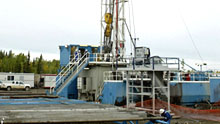 Oil and gas drilling in Alberta this year had its strongest start in four years, according to data compiled by the Canadian Association of Oilwell Drilling Contractors.
The first three months of the year are the busiest time for conventional oil and gas exploration in Alberta, when the ground is frozen and it is easy to move rigs and heavy equipment over open ground.
Through the first 12 weeks of 2011, there were 400 drilling rigs active on average. That was up from approximately 300 last year and only 220 in 2009.
In the most recent reading—the week of March 15—there were of 395 drilling rigs active out of a total fleet of 576.
"Although drilling activity rose steadily throughout 2010, it has made a particularly strong push over the last couple months," ATB Financial Economist Dan Sumner said in a commentary Monday.
Assuming oil prices remain strong and financing conditions favorable, Sumner said, "drilling activity should be fairly robust in 2011."
During the middle of the last decade, the largest number of rigs drilled for natural gas. However, the current surge in activity has been targeting oil, given its recent rise and current low gas prices.
From 2003 to 2006, fewer than a quarter of the wells drilled in Alberta were oil wells but in 2010 the proportion rose to 48%.
"In 2011," said Sumner, "there is a good chance it will be over 50%."