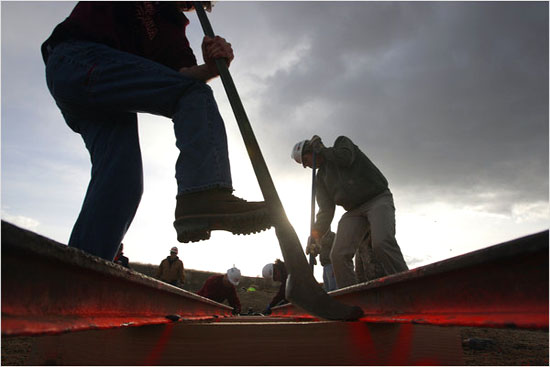 Kris Strickland is not your average student athlete. He doesn't use a ball, a mitt or a racket to show his skills. He uses a four-pound hammer. A Virginia Tech senior, he was just one of scores of competitors who took part in the weekend's 33rd International Intercollegiate Mining Competition, a tourney that combines the passion of sports with the grit of hard core—and rock—mining.
"It's a rush," said Mr. Strickland, 22, a mining and mineral engineering major whose specialty is handsteel. . .And it's a lot more fun than sitting in a classroom."
Equal parts history lesson and he-man contest, the competition involves eight events tied to a bygone era of prospecting. There's the high-pressure action of gold panning, a concentration-intense test that involves finding flattened BBs (substitute for gold) in a can of dirt. There's the jackleg, where competitors use a six-foot-long hydraulic drill bit to see who can bore the deepest. All of which is exciting for an engineering-heavy student group who come from as far as Australia to compete.
Most of the teams come from mining-proud states like Kentucky, Montana and Nevada (the U.S.' gold largest gold producer) and several have year-round training and practice facilities. Most teams practice daily leading up to the event.
While most of the mining methods have long gone out of fashion, they are still useful to know, said several mining professionals who judge the competition—and scout for talent.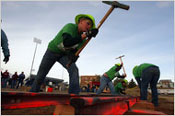 "As much as this is a competition, these are the people we're going to be working with," said student Catherine Walker. Like many others here, she has a job promised to her when she leaves school.
Demand for engineers has recently increased after years of declining numbers of mining programs. The surge in the gold price has also helped.