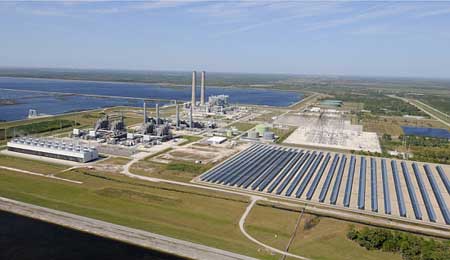 With the recent launch of the world's first
hybrid solar energy plant
, it looks like Florida is putting its reputation as
the Sunshine State
to good use. Martin Next Generation Solar Energy Center will not only help to push the state to the forefront of the solar market, but will also showcase an example of how new and old energy forms can work together.
The plant
is located in Martin County, sprawling over 500 acres of Florida Power and Light Company (FPL) owned land. With nearly 200,000 solar thermal mirrors currently being used to track and contain the energy released by the sun, it has the ability to power an impressive 11,000 homes. But solar power isn't its only means of collecting energy. It's also working with the existing natural gas plant, thus the reason it's considered "hybrid."
This 75-MW facility is expected to reduce fossil fuel consumption by 41 billion cubic feet of natural gas and 600,000 barrels of oil. In turn, this could mean 2.75 million tons less of greenhouse gas emissions and $178 million in fuel cost savings over a 30-year period.
Martin Next Generation Solar Energy Center is FPL's third large-scale renewable energy project in the past two years. In addition to delivering an additional 110 megawatts of renewable energy to the state, all three projects have led to the creation of 5,000 jobs.
Seeing as this will be the first plant to combine solar energy with natural gas, state leaders and residents hold high hopes for The Martin Energy Center. Eric Draper, executive director of Audubon of Florida summed it up, "By investing in emissions-free solar power, FPL is creating a brighter future and reducing the risk to our citizens from the environmental and economic risks of fossil fuels."