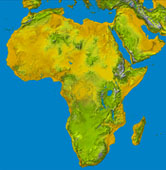 Samarium is used in the navigation system of the US M1A2 Abrams tank. It is one of 15 rare earth elements (REEs) used in high-tech and renewable energy devices, and its price increased by 1,256% over the 12 months to February 16, 2011. Samarium is only one of a handful of rare earths that have shown tremendous gains over the past 12 to 24 months.
Australia's Resource Capital Research Resource Analyst Trent Allen says that the average 12-month price gain (to February 16) for 10 rare earth oxides (REOs) reported on the Metal Pages website is an astounding 679%.
"This has been dominated by cerium (up 1 611%), lanthanum (up 1 227%) and samarium (up 1 256%)."
Allen says that these three are all light rare earth elements, as opposed to the often more sought-after heavy rare earths.
They were also the three lowest-priced elements a year ago and still among the cheapest. The major escalation seen in prices is the result of a supply situation where one country, China, produces almost all the world's rare earths—at around 97% in 2010—using the bulk locally, while also squeezing export quotas.
Last year, China cut export quotas by 40% in a move that alarmed buyers and traders, and then proceeded to trim export quotas for the first half of 2011 by another 35% from Q110 and equilibrium will only be possible if non-Chinese suppliers come on stream.
Allen says it is this short-term supply squeeze—or, at least, the fear of one—that has driven up prices.
The jump in REO prices has, of course, also led to rapidly rising share prices among these companies—and talks of a price bubble.
Rare and minor metals companies' share prices (304 global companies) have climbed 118% in the past 12 months.