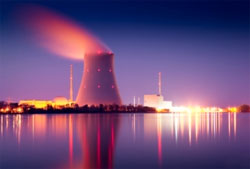 Japan's nuclear crisis has other nuclear energy-dependent nations on edge as they watch the catastrophe unfold at the Fukushima Dai-Ichi plant.
Citizens and politicians, fearful of the same tragedies in their own backyards, are calling on governments around the world to rethink nuclear power programs. Riding the wave of growing fear, investors have been pulling out of uranium stocks, as some in the markets are calling for the end of the nuclear renaissance and the death of the uranium bull.
Monday, the
spot price of uranium
dropped nearly 10% to US$60/lb. Without doubt, the developing tragedy in Japan has severely crippled the perception of nuclear power as a safe, clean alternative to fossil fuels.
"Nuclear power generation slowly has been gaining support both here in the U.S. and in Europe," said Deutsche Bank Chief Economist Josh Feinman. "I'm afraid this is going to set back nuclear power construction yet again."
"It's too early to make a final diagnosis. . .but what is obvious is that this will be a colossal setback for the nuclear industry at just the moment at which climate change is sparking a real renaissance," said environmental activist and nuclear energy advocate Mark Lynas.
While it's highly likely Japan's nuclear crisis will depress nuclear-power demand in the short to medium term, the reality is that global energy demands are still growing with an estimated increase of
35%
in global demand over 2005 levels by 2030.
One significant point made by nuclear power proponents, including environmentalists who see the value in nuclear energy as an alternative to fossil fuels, is that today's new reactors are much safer than those at Three Mile Island or Chernobyl or even Fukushima.