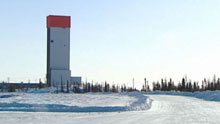 Yellowknife's dream of tapping into geothermal heat from an abandoned gold mine is in doubt, after residents voted not to let the city borrow money to advance the project.
Residents voted 1,362 to 997 on Monday against allowing the City of Yellowknife to borrow up to $49 million for the Con Mine project, a proposed district energy system that would distribute heat from the old underground mine to various downtown buildings.
Con Mine produced five million ounces of gold from 1938 to 2003. Reports have found the mine's high temperatures, which exceed 30 C, and its location directly below the city would make it a prime source of geothermal energy.
All but one of Yellowknife's city councilors were hoping for a Yes vote on Monday. Only Coun. David Wind opposed it, raising questions about whether taxpayers would be left on the hook for a big energy project that might not be economically viable.
As it turned out, the majority of referendum voters seemed to have sided with Wind.
"I do support the concept of geothermal heating of the city," said resident George Lessard. "I just think this was a very very poor way of trying to get it done."
Another resident, Jennifer Pagonis, said she is not convinced that taxpayers would not have to pay for at least part of the project, which she said would only benefit downtown businesses and city councillors.
"They're trying to make this a legacy for them that, you know, we are green, we're trying to make [the city] better, trying to make it more green and better for our environment. But, I mean, you can't do that at the cost of the people," Pagonis said.
"This could be a great idea maybe, but if the pieces of the puzzle aren't put in place, how do you sell it?"