With mostly GOP support, a U.S. House panel voted to stop the Environmental Protection Agency from regulating greenhouse gas emissions, a central tenet of President Obama's climate agenda.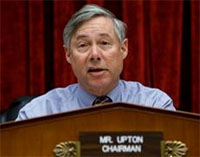 By a vote of 34–19, the House Energy and Commerce Committee passed a bill Tuesday that would strip the EPA of its authority under the Clean Air Act to limit the emissions of carbon dioxide and other heat-trapping gases from power plants, oil refineries and other sources. All Republicans voted in favor, along with three Democrats: Reps. John Barrow of Georgia, Jim Matheson of Utah and Mike Ross of Arkansas. The vote follows a subcommittee's approval last week.
GOP leaders said they'd seek approval from the full House before the Easter recess, and Sen. Mitch McConnell, R-Ky., is adding his version of the measure to an unrelated small-business bill before the Senate. Obama has indicated he'd veto legislation to stop the
EPA's climate rules, the first of which went into effect in January
.
Environmental groups say Upton's bill would hike gas prices
by barring the EPA from issuing its second set of higher fuel-efficiency standards for 2017–2025 vehicles. They say such standards lower consumption and, thus, the price of gasoline.
EPA Administrator Lisa Jackson told Congress last week, "All told, nullifying this part of the Clean Air Act would forfeit many hundreds of millions of barrels of oil savings at a time when gas prices are rising yet again. I cannot, for the life of me, understand why you would vote to massively increase America's oil dependence."
"Passage of this bill puts polluters ahead of the public and stops the EPA from protecting the health of every American," Franz Matzner of the Natural Resources Defense Council said in a statement after the committee vote.