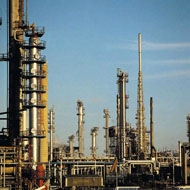 Oil exports to Japan from the Gulf region have been halted temporarily following the earthquake that struck the world's third-largest oil consumer, though order volumes are unchanged. Ports in northeastern Japan were damaged and could be closed for months and around one-third of the country's refining capacity of 4.5 million barrels per day (bpd) was idled after the quake and tsunami on Friday.
That prompted big Gulf-region crude exporters, including Saudi Arabia, Kuwait and the United Arab Emirates (UAE) to suspend new crude shipments to Japan, officials said.
"Things are so uncertain now and with the ports shut down, we have rescheduled all crude shipments going to Japan; but so far, there have been no changes to the order volumes," said an official from state-owned Kuwait Petroleum Co. (KPC).
Producing countries said they are ready to dispatch tanker loads of both crude and oil products as soon as Japan's ports are ready to receive new import volumes.
Nearly 80% of Japan's oil is imported from the Middle East region, according to data from the IEA.
With some of its refineries idled, Gulf producers expect a rise in Japan's demand for oil products.
Product demand may also rise as Japan restores electricity to areas hit with blackouts.
"As far as we have been informed, there has been no damage to the refineries. They have been just been put offline as a safety precaution; but if more products are needed, Kuwait is ready to supply Japan," said the KPC official, adding that Japan is currently able to tap its strategic oil products stockpile.
The UAE is also ready to resume shipments and boost product supply to Japan if asked, an official said.