Copper plummeted to a three-month low Tuesday, as anxiety over the safety of nuclear plants in quake-stricken Japan permeated global markets.
The natural disaster stoked fears that the global economic recovery would stall, prompting traders to cut their exposure to risky assets. Nearly $1 trillion worth of equities were sold off as traders abandoned high-risk assets like commodities and reallocated their funds into "safer" investments such as government bonds. Copper for three-month delivery on the LME dropped as much as 1.6% to $9,039/ton. Copper for June delivery on the Shanghai Futures Exchange dropped 1.2% to 68,600 yuan.
Despite copper's slide in price, the metal is holding ground compared to other commodities. On the Comex, copper for May delivery was recently down 1.5% at $4.126/lb. In comparison, April crude oil futures were down 3.2%.
Copper prices are proving resilient in the face of the global selloff as market participants expect Japan's reconstruction efforts to boost metal demand in the medium term. Once the crisis recedes, Japan will need to rebuild. This process will require the purchase of a greater-than-expected volume of copper from a market already in tight supply. "Everything from the power grid, housing construction and autos to consumer appliances are going to be required, and all the base metals markets are going to benefit from the rebuilding effort," said Max Layton, deputy head of commodities at Macquarie Securities Group.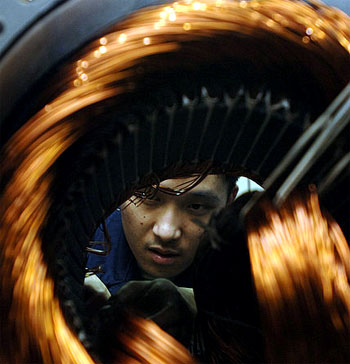 According to Deutsche Bank, Japan's copper consumption may drop by as much as 50,000 tons over three months; however, this could then be offset by demand of 3x this magnitude as reconstruction projects take off. Deutsche Bank added that copper and zinc are most likely to benefit from the reconstruction efforts.