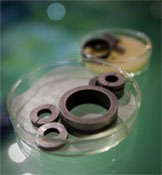 China, which controls about 95% of global shipments of rare earth elements (REEs), may start importing some of the material to meet rising domestic demand, according to Liu Junhua, a Chinese official. "China may eventually need to import the materials," Liu, the deputy secretary for Baotou Rare Earth High-Tech Industrial Development Zone Committee said today in an interview after speaking at the International Rare Earth Summit in Pittsburgh, Pennsylvania. There's a "strong possibility of importing heavy rare earths" in the next three to four years, he said through an interpreter.
Domestic Chinese demand for rare earths has increased as much as 200% in the last 12 months, with almost half of that increase coming since the start of the year, Liu said.
Rare earths are a group of 17 elements; the mines in the Baotou region produce so-called light rare earth elements (LREEs), including lanthanum, cerium and samarium. Heavy rare-earth production, concentrated in the south of China, includes the elements dysprosium, gadolinium and terbium.
The Chinese government slashed export quotas by 72% in the second half of last year for the elements that have uses ranging from high-end magnets in U.S. weapons to catalysts in petroleum refining. The country has committed to a 35% cut in the first half of 2011 from the level a year earlier. Export quotas for the second half of 2011 may be announced only in July, Liu said.
China has about 36% of global rare-earth reserves and the U.S. has 13%, according to the U.S. Energy Department.
Countering China
U.S. lawmakers, including Senators Charles Schumer and Debbie Stabenow today called on President Barack Obama's administration to block Chinese mining projects as a step to counter China's curbs on rare earth exports.