Gold (GLD) is breaking into new 52-week highs and silver (SLV) is at its highest point in more than 30 years as Libya, one of the largest oil producers, faces civil war. Libya's not following Tunisia and Egypt with a somewhat moderate transition. This revolt has been extremely violent and bloody. Currently, a lot of fear is centered on whether or not protests spread to Saudi Arabia. Already there are reports of police opening fire on protestors and banning peaceful protests. This could be a game-changer.
Investors fear the rapid rise in oil (OIL) prices may be the spark that hurts a questionable global economic recovery as equities (SPY) sell off bringing down some miners to extremely cheap levels considering the high price of gold and silver bullion.
Countries that have created easy monetary policies and which are still struggling with high unemployment are finding it extremely difficult to face soaring gas prices and rising fuel costs. Now Eurozone debt fears are resurfacing as Spain (EWP), Portugal, Greece, Italy and Ireland face soaring deficits. Within the United States, you have troubled states with government workers demanding their benefits as states face empty treasuries.
The U.S. dollar (UUP) has a hit a new low and is in danger of a significant selloff as precious metals gain safe-haven appeal. The one thing that has saved the U.S. dollar this week is Eurozone debt fears. Next week, however, we may hear more QE3 talk as jobless claims remain high and Eurozone fears resurface.
Investors have moved back into precious metals, but the gold miners (GDX) have not yet confirmed this move due to the weak equity market. All eyes are on the S&P 500 (SPY) and maintaining the 50-day moving average. If equity markets can hold up and reverse here, then some of the miners should follow bullion into new highs. There may be pullbacks and occasional selloff days but precious metals markets remain one of the strongest multiyear trends in the market. Be careful not to get shaken off a secular bull trend or misinterpret profit taking from institutional selling.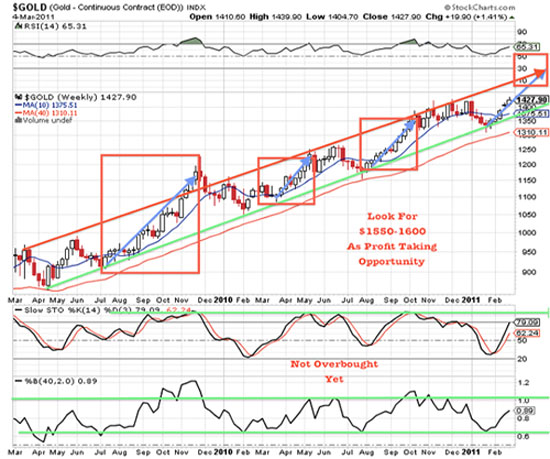 Gold (GLD) has a lot of cash on the sidelines from investors who got shaken out in January. This should lead to a measured move to at least the $1,550–$1,600 area on gold and the $38–$40 area for silver. I believe that gold and silver will follow a path similar to its upward moves in March and August 2010 and July 2009. Now we must ride this wave and uptrend in precious metals and not forget that there may be occasional selloffs and profit taking. After five consecutive weeks higher, it is only natural and healthy to have some profit taking but it shouldn't make you lose sight of the big picture and uptrend in precious metals or the danger of currencies backed by governments with soaring deficits.
I invite you to partake in my free 30-day trial of my premium service by
clicking here
.
Jeb Handwerger
http://goldstocktrades.com