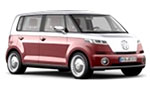 The Volkswagen microbus, which made its debut in the 1950s, has made a comeback at the Geneva Motor Show in the form of an electric compact van. In a reinterpretation of the original, which was dubbed the 'Bulli' on its home German market, the new Bulli is powered by an 85 KW electric motor with a range of up to 300 km., according to VW.
The motor is powered by a lithium-ion battery pack with a maximum storage capacity of 40 kWh. When the Bulli's battery is charged at an electric refueling station specially designed for electric vehicles, the charging process takes less than one hour.
Like the Samba bus before it, the Geneva Bulli comes in two-tone white and red paintwork. But in this case, the Bulli has an electric motor located forward of the front axle and front-wheel drive. Here it is a compact integral drive whose primary components are an E-motor, high-voltage pulse inverter and AC/DC converter for the 12-vVolt electrical system.
Acceleration from 0–100 km./hr. takes 11.5 seconds with a top speed of 140 km./hr.
In addition the new Bulli concept can also incorporate petrol and diesel direct-injection engines as alternative drives.
The new edition is 3.99m long, 1.75m wide and 1.70m tall. The wheelbase measures 2.62m.
In keeping with the Volkswagen design DNA, there is a horizontal layout of the narrow dual headlights with L-shaped LED daytime running lights and turn indicators implemented as LEDs arranged in an inverted L shape at each outer corner.
Concealed in the sandwiched floor behind the sills is the 1,450-kilo. lithium-ion battery.
After presenting a similar lifestyle concept study 10 years ago, this one appears close to serial production with a possible 2014 launch.