Gold prices have increased substantially recently but another shiny metal has appreciated even more—copper. Since the summer copper has risen 50% (gold is up about 20%) and is now trading above its pre-recession price.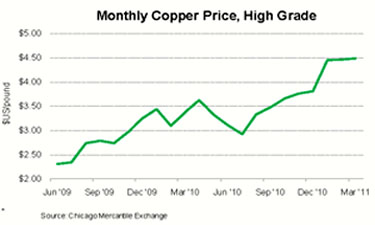 Copper is used primarily for electrical wiring and in construction (pipes for heating, ventilation and plumbing). There are alternatives to using copper, with plastics able to replace some piping and fiber optics and aluminum used for wiring, but these substitutes aren't perfect. Given the long history and often-superior performance, copper's dominance in these areas isn't threatened, despite its dramatic rise in price—at least not in the immediate future.
Similar to crude oil, copper prices have soared on fears of a precipitous drop in future production. Increased demand is projected to dramatically outstrip the pace at which recycled copper can be reclaimed or new mines opened. China's appetite for the metal has been ravenous, resulting in the depletion of inventory, pushing its price to new highs.
The rise in copper's price will be a boon to BC's economy, where there are deposits of minerals used to produce copper. However, the impact on Alberta is probably negative, given the metal's pervasive use in the construction industry. While there is data on copper production, it is unknown how much is consumed. It's thus hard to know how much demand is destroyed or substituted away. In the short run, the higher price might be hard to avoid.
Because copper can be an important price in new home construction, homebuilders will be paying close attention as the typically busy spring and summer building season is right around the corner.