As a general rule, the most successful man in life is the man who has the best information
Terraco Gold Corp. (TSX.V:TEN)
is an aggressive junior exploration company with properties in Nevada and Idaho. The Almaden property, located in Idaho, has been drilled with 887 holes, 60,000m of historical drilling and has an M&I gold resource of 864,000 oz. (Koz.) gold and an inferred resource of 84 Koz. gold. This resource is likely open pittable and heap leachable.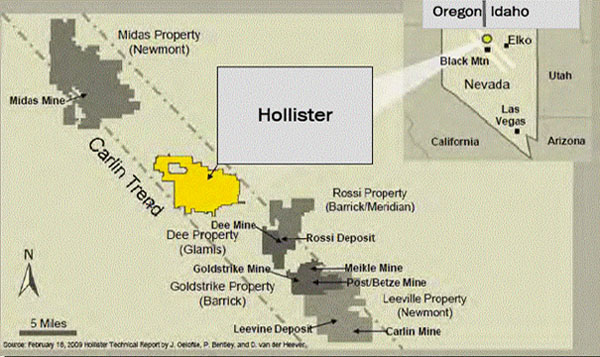 Almaden is similar to mines in northern Nevada, which host bonanza‐grade gold in feeder zones below lower-grade disseminated ores. High‐grade feeder system examples include: Midas (7.6 Moz.), Mule Canyon, Buckhorn and Hollister.
The majority of historic drilling has been to a depth of only 100 meters; the resource is still open along strike for several hundred meters and also at depth. Earlier metallurgical work done in 1997 indicates a recovery rate of 63%. It's believed this recovery rate can be increased.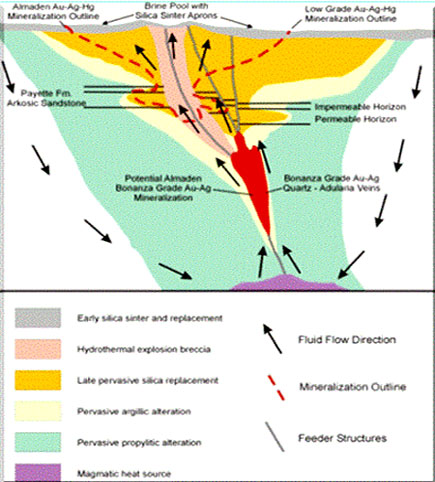 Bonanza‐grade gold occurs in boiling areas commonly starting at 150m–200m below disseminated ores.
While there is real value in the current resource of almost 1 Moz. gold, deeper drilling may identify high grade and perhaps bonanza gold and silver ore shoots that may have fed the current resource. The Almaden resource appears to be similar to mines in northern Nevada (Hollister at 4 Moz. gold or Midas at 7.6 Moz. gold) that had bonanza-grade gold zones in feeder zones below the disseminated gold discovered to date.
What's so exciting about the upcoming Almaden drill program is that there is substantial evidence to suggest there might be higher-grade, perhaps bonanza-grade, feeder shoots at depth. The main body of mineralization runs along an exposed ridge. This does two things for a company—first, an outcropping orebody on top of a ridge reduces the strip ratio in a low-grade deposit; second—and much more important—it's roughly 200 meters higher than the start of the Stinking Water drill hole.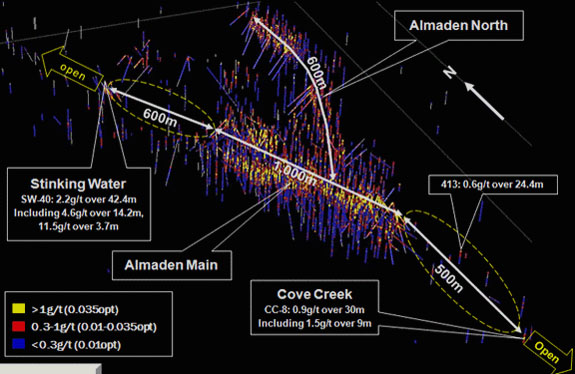 The exploration potential on the Almaden property is in extending the known mineralization and potential discovery of higher-grade feeder shoots.
If Terraco's interpretation of how the feeder system works is correct, then higher-grade feeder shoots could start showing at roughly 200 meters of depth. The Stinking Water drill hole was collared 600m away from the Almaden Main, started some 175m lower than the upper surface of the outcropping orebody and contains high-grade intercepts—one intercept graded 11.5 g/t gold over 3.7m.
The suggestion, to this author, is that the Hollister/Midas Mine model of having higher-grade ore shoots feeding the current resource is potentially very real at Almaden.
Drilling is expected to start in about a month; permitting is underway. In Idaho, permits aren't needed for private or patented land—only for federal land, and very few holes will be drilled on Federal land.
Terraco's Moonlight gold/silver property
is located in Pershing County, Nevada and adjoins the Barrick/Midway Spring Valley JV project to the south. Barrick and Midway have identified an over 1.8 Moz. gold resource. Midway's Spring Valley project and Terraco's Moonlight are both on the Black Ridge Fault. Moonlight is also on trend and approximately five miles north of the Coeur Rochester silver/gold mine—also on the Black Ridge fault.
A systematic grassroots program on Terraco's Moonlight property consisting of mapping, rock sampling—with results as high as 4 g/t gold and 2,500 g/t silver) and airborne and ground geophysical surveys identified several targets that appear to display either geological or geophysical characteristics similar to areas of gold mineralization in the Spring Valley Project.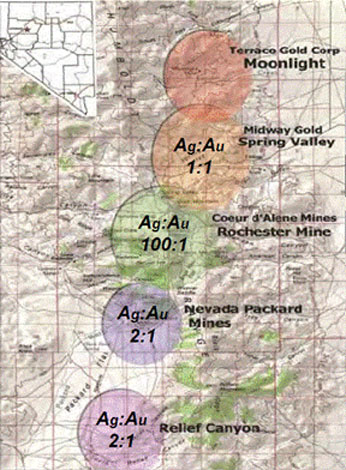 Terraco's Moonlight is one of the largest early stage properties remaining on the Humboldt Trend.
Chip sampling at the historic Moonlight Mine yielded results of up to 2,510 g/t silver across 1m and 1,045 g/t silver across 1.5m. Within the Moonlight Basin, dump and outcrop sampling yielded values as high as 3.75 g/t gold and 257 g/t silver. Sampling has also revealed previously unidentified anomalous gold, silver and base metals in outcrop and float elsewhere within the Moonlight Project area.
At numerous old mines and prospects on the Moonlight property, gold and silver don't appear to be closely correlated in sample results; this might suggest these precious metals originated from different mineralizing events.
There is some evidence to suggest that Moonlight could be the next mineralized event in a string of deposits on the Humboldt Trend ranging from Relief Canyon at the south end, north through Nevada Packard, Rochester, Spring Valley and Moonlight.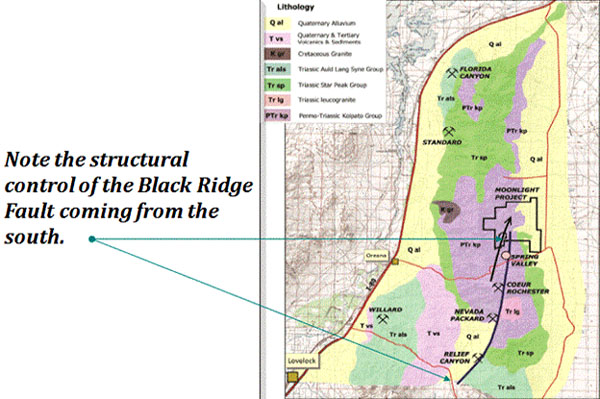 In the past, Terraco has done two small drill programs on the Moonlight property. Results from both programs were, well, less than expected. But let's remember—exploration is basically a succession of experiments. Each experiment, successful or failed, brings in more data to increase knowledge.
Since Terraco's last drill program, understanding of the mineralization controls of Midway's Spring Valley project (and other deposits in the area) has evolved immensely.
Drill results, sampling, mapping and a greater understanding of Spring Valley mineralization has led the Terraco team to change targets and move from the basin further east. The company plans to drill Moonlight this summer. Tom Chadwick—a Black Ridge fault expert—has been hired to do the mapping and coordinate his work with Joe Inman, who is doing the geophysical work. They now have new targets in the same host rocks and structural environment as Spring Valley. Also, cross structures are extremely important at Spring Valley and TEN is targeting some major cross structures in its summer's drill program.
Conclusion
Terraco Gold Corp. has two exciting and very well thought-out drill programs starting in the first half of the year. Terraco's management has in the past been successful in all aspects of running a junior resource company—this team has been there and done it, not once but numerous times. Is Terraco Gold and its Almaden and Moonlight drill programs on your radar screen?
If not, maybe it should be.
Richard (Rick) Mills
[email protected]
www.aheadoftheherd.com
If you're interested in learning more about the junior resource market please come and visit us at
www.aheadoftheherd.com
. Membership is free, no credit card or personal information required.
Richard is host of Ahead of the Herd and invests in the junior resource sector. His articles have been published on over 200 websites, including:
The Wall Street Journal,
Safe Haven, Market Oracle
, USAToday, National Post,
Stockhouse, Lewrockwell.com, Casey Research, 24hgold
, Vancouver Sun,
SilverBearCafe, Infomine
, Huffington Post,
Mineweb, 321gold, Kitco, Gold-Eagle, The
Gold/Energy Reports, Calgary Herald,
Resource Investor and
Financial Sense.
Legal Notice/Disclaimer:
This document is not and should not be construed as an offer to sell or the solicitation of an offer to purchase or subscribe for any investment. Richard Mills has based this document on information obtained from sources he believes to be reliable but which has not been independently verified; Richard Mills makes no guarantee, representation or warranty and accepts no responsibility or liability as to its accuracy or completeness. Expressions of opinion are those of Richard Mills only and are subject to change without notice. Richard Mills assumes no warranty, liability or guarantee for the current relevance, correctness or completeness of any information provided within this Report and will not be held liable for the consequence of reliance upon any opinion or statement contained herein or any omission. Furthermore, I, Richard Mills, assume no liability for any direct or indirect loss or damage or, in particular, for lost profit, which you may incur as a result of the use and existence of the information provided within this Report.
Richard Mills does not own shares of Terraco Gold; Terraco is an advertiser on Ahead of the Herd.