The Middle East Turmoil has created a selloff in equities and a run to the safe haven assets of precious metals and oil. Even though rare earth element (REE) prices are soaring, many investors have overlooked a key sector that has pulled back, providing a bargain opportunity before the rare earth crisis intensifies.
U.S. House Rep. Mike Coffman from Colorado, joined by 28 Republicans and Democrats in the U.S. House of Representatives sent a letter to the U.S. Trade Representative, demanding he file a complaint with the World Trade Organization against China's export reduction policies of rare earths.
Coffman wrote, ". . .Rare earths are critical to U.S. national security. Currently, the world is nearly 100% reliant on Chinese exports. . .while our nation must act to correct our domestic rare earth supply chain problem, we must also recognize that the lack of a level playing field. . .is harmful."
Coffman mentioned that the United States must act to correct the domestic rare earth supply. Even though there are a few heavy rare earth element (HREE)deposits in North America, there is no separation facility outside China. This facility is crucial in extracting the valuable metal.
Avalon Rare Metals Inc. (TSX:AVL; NYSE.A:AVL; OTCQX:AVARF)
may be the first to bring separation capabilities, but not until 2016. That's more than four years away, so alternative solutions must be addressed. The costs of HREE oxides are soaring as China cracks down on illegal smugglers and reduces export quotas.
China has made a valid argument that there are rare earth reserves outside of China that aren't being utilized. Although the U.S. may put pressure on China through the WTO, it will only have weight if the U.S. is able to show progress with its own current production capabilities. Foreign governments have come to rely solely on China for key heavy rare earths. Although China provides more than 97% of the global supply of rare earth minerals, its reserves are one-third of the global total. This shows the inaction of our elected officials who have been more concerned bailing out failed banks rather than securing a supply of precious heavy rare earths needed for our most crucial defense technologies. An industry we developed was outsourced to China, putting a foreign nation in the driver's seat.
The recent meeting with the governor of Alaska, Molycorp (MCP), with the highest levels of the federal government, shows us hope that leaders are becoming truly aware of how crucial a domestic supply of certain heavy rare earths are to the most innovative and cutting edge technologies. Now we must see if any action comes out from these meetings to assist and fast track our key deposits. There are very few quality assets in the United States that have HREEs used in the magnets of hybrid engines and guided missiles. There are very limited investment options for U.S. investors.
It's not just iPads and iPhones that may be affected. From the tone of the letter and the recent urgency in Washington makes me surmise that there are many technologies requiring heavy rare earths, which may be top secret and classified that are crucial to the U.S. survival. These recent events and legislators expressing that the rare earth shortage is critical to U.S. National Security makes me believe this crisis is far greater than we can imagine.
Yesterday, Japan and South Korea invested $1.8 billion in a Brazilian mining group that is the largest producer of niobium. Niobium is used to make a hard lightweight steel that is increasingly being used to make vehicles more fuel efficient and lighter. Japan and South Korea are seeing soaring prices and are concerned about future cuts from China. Niobium is crucial for these countries to provide the lightest and strongest cars. Outside of Brazil is IAMGOLD's Niobec Mine in Quebec and
Avalon Rare Metal Inc.'s (TSX:AVL; NYSE.A:AVL; OTCQX:AVARF)
Nechalacho Mine, which ranks as the third-largest niobium deposit in the world. I would not be surprised if we see further investments into this sectors as the shares have underperformed the soaring prices of rare earths significantly.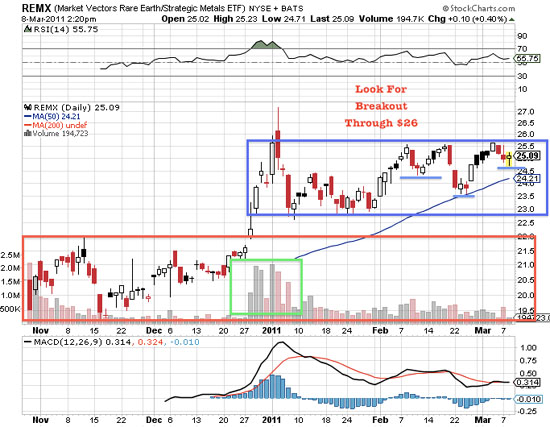 The Rare Earth ETF (REMX) looks ready for a potential breakout from an inverse head-and-shoulder pattern. I expect that the mining shares will outperform once again, and this ETF should go into new all-time highs. Look for a breakout through $26 on heavy volume to confirm the next upward leg for rare earth stocks. Look for industry consolidation and monitor this crucial sector, which may be overlooked by investors at the moment.
Jeb Handwerger
Gold Stock Trades