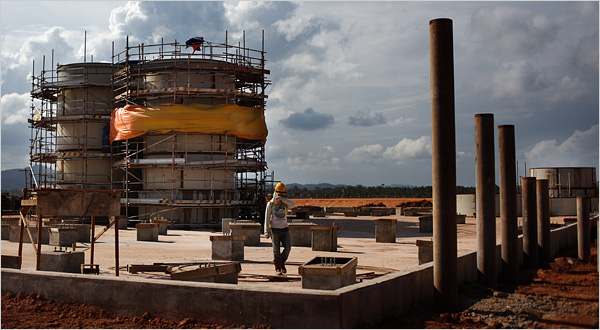 A colossal construction project here could help determine whether the world can break China's chokehold rare earth metals (REEs).
As many as 2,500 construction workers will soon be racing to finish the world's largest refinery—the first REE processing plant to be built outside China in nearly three decades.
For Malaysia and the world's most advanced technology companies, the plant is a gamble that the processing can be done safely enough to make the local environmental risks worth the promised global rewards.
As Malaysia learned the hard way a few decades ago, refining rare earth ore usually leaves thousands of tons of low-level radioactive waste behind.
So the world has largely left the dirty work to Chinese refineries—processing factories that are barely regulated and in some cases illegally operated, and have created vast toxic waste sites.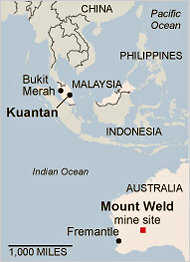 Even now, though, countries with their own REE deposits are not always eager to play host to the refineries that process them. An American company, Molycorp, plans to reopen an abandoned mine near Death Valley in California; but Molycorp must completely rebuild the adjacent refinery so as to address environmental concerns.
Australian mining company, Lynas, is hurrying to finish a $230 million rare earth refinery on the outskirts of Malaysia's industrial port of Kuantan. The plant will refine slightly radioactive ore from the Mount Weld mine deep in the Australian desert, 2,500 miles away. The ore will be trucked to the Australian port of Fremantle and transported by container ship from there.
Within two years, Lynas says, the refinery will be able to meet nearly a third of the world's REE demand—not counting China, which has its own abundant supplies.
Despite the potential hazards, the Malaysian government was eager for investment by Lynas, even offering a 12-year tax holiday.