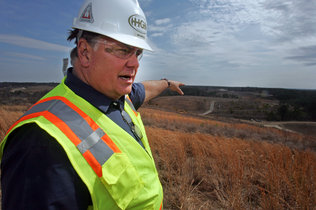 Dust swirled in the late winter breeze as drill rigs cut holes deep into the rock of Lancaster County, searching for gold.
The work, conducted last month, was part of a Canadian company's quest to reopen the historic Haile Gold Mine, hire up to 800 people and create the largest gold-mining operation east of the Mississippi River.
But to extract flecks of gold that previous mining operations could not reach, Romarco Minerals wants to fill creeks and dig up wetlands on a scale not often seen in South Carolina. The work would affect 162 acres of wetlands near the last stronghold of an endangered mussel.
Romarco's plan has set up a potential jobs-versus-the environment debate in this quaint, economically depressed town 60 miles south of Charlotte.
Unemployment rates in the Kershaw area exceed 20 percent, about twice the overall jobless rate in South Carolina. Work has been hard to come by since Kershaw's textile mill closed more than two decades ago.
The company's plan, however, is drawing attention from federal and state natural resource agencies.
"This is extensive," said Morgan Wolf, a biologist with the U.S. Fish and Wildlife Service. "It's not at all typical of the majority of the projects we see."
Romarco expects to employ about 500 construction workers and 300 permanent workers during the mine's life during the next two decades.
A major worry is the use of toxic chemicals to extract gold. The Romarco mining operation will use cyanide, a caustic compound that if leaked into groundwater could seep into Flat Creek. Cyanide, which is vital to wash gold from rocks, also can kill birds and other wildlife.