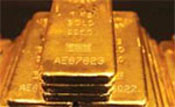 Egypt announced a ban on gold exports "in light of the exceptional circumstances the country is passing through. . .to preserve the country's wealth until the situation stabilizes," according to the country's official news agency MENA reported Monday. The country's gold export ban is aimed at preventing former government officials and other industry leaders who acquired capital illegally from transferring it abroad.
Minister of Trade and Industry Samir Sayyad said Sunday that the ban will remain in effect from Feb. 27–June 30.
Since the start of the January 25 uprising, fears have risen that individuals suspected of corruption or wanted for investigation have been smuggling money abroad in the form of gold.
Mohamed Mahsoub, secretary-general of the popular Egyptian Front for Reclaiming the People's Wealth, said early last week that the group has documents in its possession proving that certain former officials had transferred large amounts of money to foreign banks, where they had also deposited quantities of gold and platinum ingots.
He also said one former Egyptian official had transferred some $620 million from Barclay's bank in England to UBS bank in Switzerland and that the Egyptian Attorney General had asked Egypt's foreign ministry to monitor foreign bank accounts belonging to ousted president Hosni Mubarak and his immediate family.
Robust physical demand in January and February saw gold rise nearly 6% in February, and silver's strong industrial and investment demand led to a 19% rise to new nominal 30-year highs.
Political and, more importantly, socioeconomic revolutions in the Middle East and North Africa are leading to a degree of geopolitical instability and risk not seen in many years which paved the way to resort to traditional investor's haven.