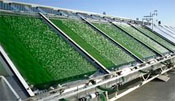 A Massachusetts biotechnology firm says it can produce the fuel that runs Jaguars and jet engines using the same ingredients that make grass grow. Joule Unlimited has invented a genetically engineered organism that it says simply secretes diesel fuel or ethanol wherever it finds sunlight, water and carbon dioxide. The company also says it can manipulate the organism to produce the renewable fuels on demand at unprecedented rates, and can do it in facilities large and small at costs comparable to the cheapest fossil fuels.
What can it mean? No less than "energy independence," Joule's site says, even if the world's not quite convinced.
"We make some lofty claims, all of which we believe, all which we've validated, all of which we've shown to investors," said Joule chief executive Bill Sims.
"If we're half right, this revolutionizes the world's largest industry, which is the oil and gas industry," he said. "And if we're right, there's no reason why this technology can't change the world."
The doing, though, isn't quite done, and there's skepticism Joule can live up to its promises.
National Renewable Energy Laboratory Scientist Philip Pienkos said Joule's technology is exciting but unproven, and the company's claims of efficiency are undercut by difficulties they could have just collecting the fuel their organism is producing.
Timothy Donohue, director of the Great Lakes Bioenergy Research Center at the University of Wisconsin-Madison, says Joule must demonstrate its technology on a broad scale.
Perhaps it can work, but "the four letter word that's the biggest stumbling block is whether it 'will' work," Donohue said.