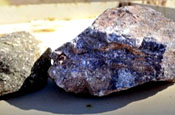 China on Monday issued environmental standards for rare earth element (REE) producers that 60% of its local REE industry would struggle to meet, according to a state-owned newspaper. This will lead to consolidation among miners of the metals, which are used in high-tech electronics from smart phones and advanced weaponry to laptops and will drive up export prices,
China Daily
reported, citing an unnamed executive from Ganzhou Rare Earth Mineral Industry Co.
China produces more than 90% of the world's rare earth element supplies, and has been reducing exports to other countries.
European, U.S. and Japanese governments have expressed concern about their respective countries' excessive dependence on China for rare earths, which are also used in the giant magnets crucial to wind-power generation.
The U.S.' Molycorp Inc. has the most advanced rare earth mine outside of China, located in Mountain Pass, California.
China Daily
quoted Vice Minister of Environmental Protection Wu Xiaoqing as saying the industry would have to spend $228 million at current production rates to build water treatment plants.
The new environmental standards come into effect on October 1, 2011.