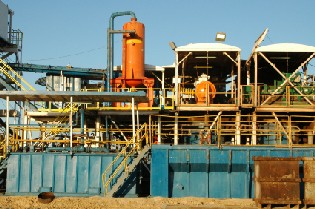 The Canadian province of New Brunswick possesses a variety of rich mineral deposits including metals (zinc, gold, copper, lead, antimony, bismuth, cadmium, and silver); fuels (oil, natural gas and coal); and structural materials (lime, sand and gravel, stone). All known hydrocarbon deposits are located in the Late Devonian-Carboniferous Maritimes Basin, which underlies the eastern part of the province. New Brunswick's marginal importance for Canadian exports has increased over each of the past four years, with the percentage of domestic exports from the province reaching a historical high.
Most recently, the government has identified shale gas exploration and related industrial development as potentially having considerable benefits for the economic fortune of New Brunswick. As of October 2010, there are 70 oil and natural gas agreements in place that cover approximately 1.4 million hectares.
On Sunday, New Brunswick Premier David Alward concluded a meeting with Arkansas Governor Mike Beebe in Washington, D.C., with a rekindled desire to take a deeper look at shale gas development in New Brunswick. Three New Brunswick cabinet ministers recently flew to Arkansas to examine the state's handling of the shale gas industry. Arkansas is one of only four states with a projected balanced budget, and has largely avoided the fiscal crisis sweeping the United States in part through revenues obtained from shale gas resources.
Bruce Northrup, the present Minister of Natural Resources for New Brunswick is on the record as stating, "Our government supports responsible expansion of the natural gas sector while ensuring the safety and security of homeowners and our groundwater supply. This is important for both taxpayers and industry. All of us want to see exploration and development done in an environmentally responsible fashion in order to ensure that we can gain the economic benefits possible for our province."