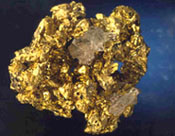 The Yukon has a long mining history, with the first reported minerals exploitation predating European settlement. The first mineral explorers were the aboriginal people who mined native copper nuggets to fashion arrowheads and trade. European settlers began prospecting for placer gold around 1850, which followed the famous Klondike Gold Rush of 1896. But despite its long history, the Yukon is considered underexplored. Historically, explorers had only four months when they could search for mineral deposits and weren't active in the area until helicopters were first used to access remote lands around 1960.
Over the last 50 years, much has changed in the area. With better infrastructure, communications and camps, the field season is now year-round. As exploration advances, so does the evidence suggesting the Yukon may host Carlin-type deposits. These deposits are massive, sometimes containing microscopic gold particles spread throughout a large region. While the deposits may be low grade, which is why they were often overlooked by early prospectors, they are massive in volume. By 2008, mines in the Carlin Trend had produced more than 70 Moz. goldóworth approximately US$85 billion at 2011 prices.
So, why is it possible the Yukon could host Carlin-type deposits?
In an interview with Resource Investing News Network,
Golden Predator Corp. (TSX:GPD)
Chief Geologist (and former head of mineral services with Yukon Geological Survey) Mike Burke commented on his decades of experience in the region. "The primary evidence is the fact that the Selwyn Basin, in the Yukon, has the same geological history as the Great Basin in Nevada," he explained.
Numerous explorers and their financiers believe in the Yukon's mineral potential. According to
Mining Spectator
Founder Greg McCoach, $160 million was spent on Yukon exploration in 2010 and $320 million in exploration work is planned for this summer 2011.