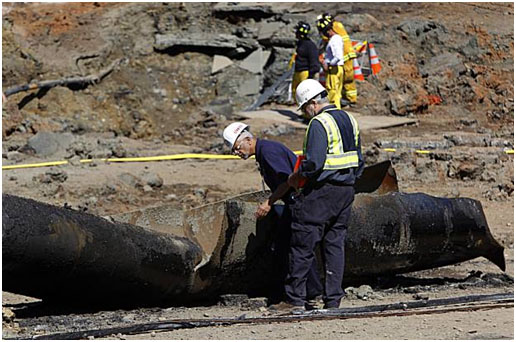 Federal investigators examine a 40-foot section of Pipeline on Glenview Drive, San Bruno.
Spiking an urban natural-gas transmission pipeline beyond its legal limit—as Pacific Gas and Electric Co. has acknowledged it did twice on the
San Bruno
line that later exploded—violates federal regulations and requires an operator to inspect for damage that could cause a rupture, federal regulators say.
PG&E would have had to inspect the San Bruno pipeline for weak welds and other defects after the spikings in 2003 and 2008, under the interpretation of federal natural-gas safety rules.
Experts say a flawed seam weld on the San Bruno line, identified in federal reports as the starting point of the deadly Sept. 9 rupture, would almost certainly have been discovered during the rigorous testing needed to detect such problems. Instead, PG&E conducted a less time-consuming, less expensive test in 2009 that is suited only for detecting corrosion on a pipe, not problem welds.
Investigators are focusing on the company's pressure-spiking practices as they probe the rupture that caused a fireball to burst from the San Bruno line, killing eight people and destroying 38 homes. The rupture started at a crack in a weld that extended only halfway through the pipe wall, the National Transportation Safety Board has found.
PG&E told state regulators this month that the transmission line under San Bruno was one of a dozen old pipelines on which it intentionally surged pressure to or slightly above the legal maximum at least once since 2003. The San Bruno line was one of three lines on which PG&E spiked pressure levels twice.
Regulators with the California Public Utilities Commission told The Chronicle that they are investigating whether PG&E's practices violated federal and state regulations.
Pressure testing is an expensive inspection regimen that involves shutting down a pipeline temporarily, filling it with pressurized water and checking for weak welds.