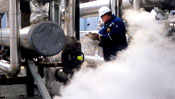 Canada has threatened to scrap a trade deal with the European Union if the EU persists with plans that would block imports of Canada's highly polluting tar sands, according to EU documents and sources.
The EU has told its fuel suppliers to reduce the carbon footprint of fuels by 6% over the next decade, and is now fine-tuning "default values" to help suppliers identify the most carbon-intensive imports.
Canada says the standards would instantly constrict a possible future market for its oil sands—tar-like oil that's trapped in sediment and forms the world's second largest proven crude reserves after those of Saudi Arabia.
"Canada has been lobbying the Commission and member states intensively to avoid a separate default value for fuel derived from tar sands," said a briefing note prepared by EU officials for Climate Commissioner Connie Hedegaard.
"It has raised the issue in the context of EU-Canada negotiations on a free trade agreement," adds the note, one of several from last year released last week under freedom-of-information laws.
Sources said Monday that Canada had gone further, threatening to void the free trade deal, which is expected to be agreed later this year.
Canadian officials denied they have threatened to scrap the trade deal, but said they are concerned about how the oil sands oil will be treated under the EU's fuel directive.
"Canada and the EU are working to resolve the issue outside of the negotiations toward a free trade deal," International Trade Minister Peter Van Loan said.
Environmentalists oppose the tar sands industry, saying the extra energy needed to extract oil from the site in Alberta intensifies the impact on climate, while polluted wastewater harms wildlife and pollutes rivers.