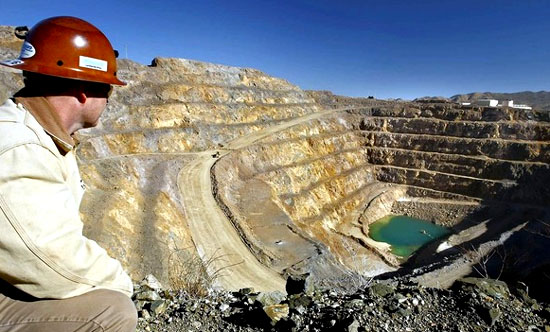 In the Mojave Desert just off I-15, workers dig for lucrative dirt—and this massive hole is about to get even bigger. To meet an insatiable global appetite for rare earth elements (REEs), Molycorp is boosting production and plans to dig out about 40,000 tons (Kt.) per year by 2014, up 1,200% from the current rate of about 3 Kt.
REE shortages could cause companies already weakened by the recession to shrivel or stall, industry officials say. Molycorp's Mountain Pass mine produces about 3% of global REEs but plans to eventually turn out 25% of total supply.
"The use of these materials has really skyrocketed, with demand outstripping supply literally overnight," said Molycorp CEO Mark Smith.
Cofounder of the rare commodities research firm Technology Metals Research Jack Lifton says, "We better get on the ball here or our green industries are going to be at the complete mercy of China."
Many hope the Mountain Pass facility will help loosen China's chokehold on REE mining and manufacturing.
The U.S. rare earths industry is hoping other domestic mines will open.
The USGS has identified several sites where REEs could be mined. Congress is considering proposals, some pushing for loan guarantees for REE suppliers, to encourage more domestic research and production.
But developing a new mine from scratch requires prospecting, exploration, permitting and construction.
And even if more mines open in the U.S., the country has few companies that can process REEs. Without a domestic supply chain, most of the material extracted in the U.S. would have to be shipped overseas anyway.
"It takes a lot to go from some dirt in the ground to magnets," said Lifton, adding, "Finding a deposit is like saying, 'George Washington slept here.' It doesn't mean much.