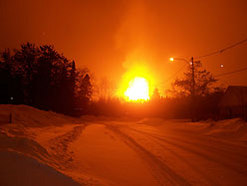 Several homes in a small northern Ontario town were evacuated late Saturday night after a natural-gas pipeline exploded and shot flames hundreds of feet in the air.
The pipeline ruptured and caused a massive blast that led to an evacuation of a four-block radius in Beardmore, 190 km northeast of Thunder Bay, police said.
"Flames could be seen hundreds of feet in the air," said Ontario Provincial Police Sgt. Greg Moore.
Aircraft pilots could see the blaze from the sky, he said.
Kim Brunet was on the computer in her home at 11 p.m. when she heard a bang and saw a huge fireball burning outside the window. At first she thought her neighbor's home had blown up or a plane had crashed.
"The house started shaking. It was a pretty scary feeling," Brunet told QMI Agency. "I thought there was a fireball coming. I really thought it was the end of the world."
No injuries were reported, police said.
Hwy. 11, near Nipigon and Longlac, was closed to traffic until 8:30 a.m. Sunday, Moore said.
The fire eventually extinguished itself after about three hours.
Two Transportation Safety Board of Canada officials were deployed Sunday to investigate the TransCanada-owned pipeline "accident," board spokesman John Cottreau said.
Police are expected to remain on scene for at least 48 hours.