The dollar is now poised on the edge of the abyss.
The current intermediate cycle has rolled over and is making lower lows and lower highs. The current daily cycle has formed a swing high and is in jeopardy of rolling over into a left translated cycle. If the dollar breaks below the November intermediate bottom of 75.63 it will be an incredibly bearish sign, as not only will the current intermediate cycle have topped in only four weeks but the larger yearly cycle will also have topped in only four weeks.
If that happens there is little chance the dollar will be able to hold above the March'08 lows as the crash down into the three-year cycle low begins in earnest.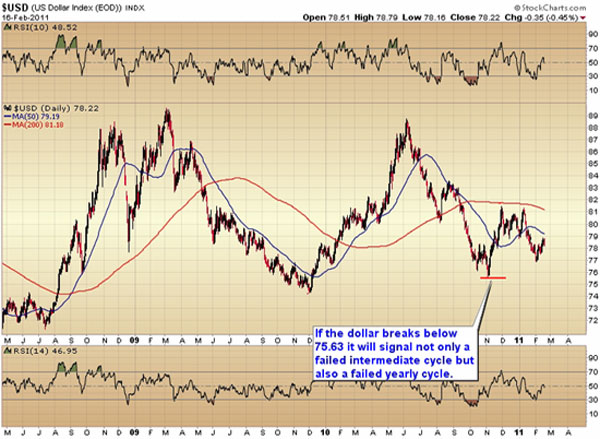 This will not only drive the final leg up in gold's huge C-wave it will also drive a huge spike in inflation in all other commodities. Food riots worldwide will intensify. The rest of the world will be in an uproar over the collapsing dollar. Spiking commodity prices will collapse discretionary spending just as in '08 and '09.
The phony economy driven by Ben's printing press will roll over when he's forced to turn off the presses to halt the dollar collapse. (Just as it started to do last summer when QE ended and the stock market started to collapse).
The dollar's rally out of the three-year cycle low should correspond with stocks beginning the next leg down in the secular bear market, and the next brief deflationary period just like the bounce out of the '08 three-year cycle low drove the second leg down in the secular bear market.
The rally out of a three-year cycle low usually lasts about a year to a year and a half. The next four-year cycle low in the stock market is due in 2012. I expect that yearlong rally out of the coming three-year cycle bottom to drive stocks down into the next major four-year cycle trough and drive the CRB into its next major cycle bottom.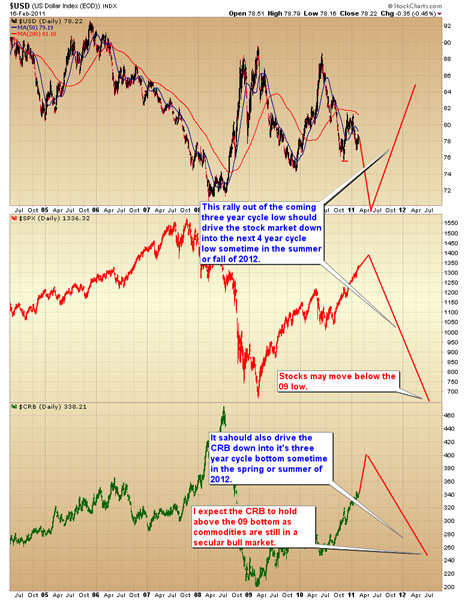 A lot is riding on the next two to three weeks. If the swing high in the dollar yesterday does signal the top of the dollar's daily cycle, then the November low will almost surely be broken and the chain of events I laid out will be set in motion.
Toby Connor
GoldScents