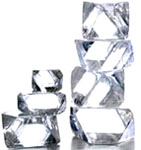 The U.S. imported $524 million worth of rough diamonds in 2010, shooting up 298.4% versus gross imports in 2009. Exports more than doubled (+110.5%) to $340.8M, for net imports of $183.2M, based on figures released by the U.S. Department of Commerce. By volume, the U.S. imported in 2010 388,653 carats, a 15.3% decline, and exported 1,060,476 carats, a 27.4% increase. This resulted in a negative net trade of 671,823 carats.
In December, the U.S. imported 41,603 carats worth $63.1M at an average value of $1,515.73 per carat (p/c). This is a 116% increase in value and 40.6% decline in volume compared to December 2009.
Exports of 146,425 carats worth $53.8M increased 51.9% by volume and declined 21.5% by value. Net imports in December were $9.3M and -104,822 carats.
Much has been said about the peculiar trade in rough diamonds via the U.S. The nearly constant situation of exports exceeding imports—even though the U.S. does not have any commercial diamond mines—gave rise to the speculation that the U.S. serves as a mass smuggling station.
Another theory arises from the quantity of rough passing through the country, while U.S. manufacturing needs are minute in comparison. According to Analyst Chaim Even Zohar, the most obvious explanation for the volumes of rough trade to and from the U.S is money laundering.
Whatever the reason may be, the route is clear. Rough is entering the U.S. primarily from South Africa, Angola, Botswana and Canada (gross imports of $466.2M, net imports of $437.5M) and goes to Israel, Belgium and India (gross exports of $269.7M, net exports of $266.2M); in other words, from producing countries to trading centers.