Lithium stocks have been one of the hot sectors from the resource group in a very powerful bull market. The Global X Lithium ETF, LIT, has just resumed its uptrend. It's a reasonable assumption therefore to expect the stocks from the lithium sector to also resume their uptrends.
Global X Lithium is an ETF corresponding to the performance of the Solactive Global Lithium Index. As you can see from the chart below, LIT appears to have emerged from a five-week consolidation that was constructive and kept the strong uptrend intact.
Western Lithium USA Corp. (TSX:WLC; OTCQX:WLCDF)
is breaking out in Monday's action. The better-than-10% gain is a clear shift from sideways trading action to upside power. This is the first stock to show significant renewed upside action from the lithium sector. The first stocks to resume uptrends are usually the big winners. In order to time the market and maximize returns, we isolate the first movers that ultimately turn into the market's hot stocks.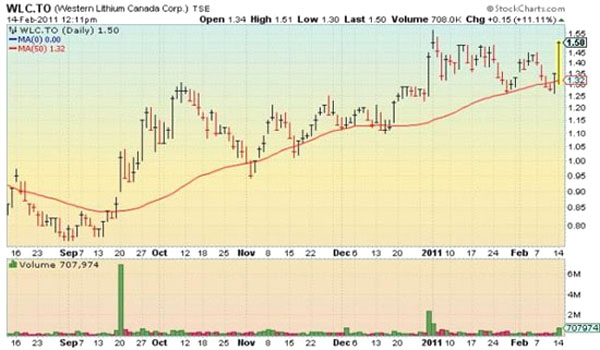 The lithium sector leader from our research is Sociedad Quimica. SQM is in a consolidation with the last two sessions displaying recovery. It is now less than 6% off its 52-week high. Other stocks from the sector that appear to be closest to meaningful entry points include Canada Lithium Corp.,
Lithium Americas Corp. (TSX:LAC)
and
Talison Lithium Ltd. (TSX:TLH)
. These three are all traded in the Canadian market. The Canadian market is rife with stocks from hot resource sectors, including lithium, uranium, rare earth, silver, etc. They are higher risk and volatile for the most part, but aggressive American growth investors should seriously consider taking advantage of the rare occasion to find opportunities that are more fertile and with more choices than what trades on U.S. exchanges.