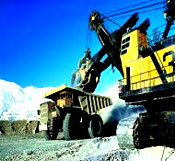 China has decided to set up its first group of rare earth mining zones with a view to protect not only resources but also the environment, a state news media outlet said today. The Chinese Ministry of Land and Resources announced last month the establishment of 11 state-planned rare earth element-mining zones in Ganzhou Prefecture of east China's southern Jiangxi Province, an area rich in ion-absorbed-type rare earth.
"Setting up the mining sections will help the Chinese government to properly manage rare earth resources," Xinhua News Agency said, citing an official from the Ministry of Land and Resources.
Rare earth elements are crucial for the production of components used in consumer electronics, but their mining is known to be destructive to forests, soil and farmland. The waste released after mining also damages the environment.
Through the designation of special rare earth areas, the Chinese government is also expected to track information on resources more accurately.
The 11 special mining zones have a combined area of 2,500 square kilometers, with rare earth reserves estimated at 760,000 tons.
The ministry also designated two state-planned iron-mining zones in Panzhihua, western Sichuan Province. The two iron mining zones have an area of 460 square kilometers.
China supplies 97% of the world's rare earth elements and has gained its market dominance by cutting prices of the elements.
Ion-absorbed-type rare earth, also known as medium and heavy rare earth, is considered more valuable than lighter kinds as it is used in more advanced technology areas, including missiles.
China's verified reserves of ion-absorbed-type rare earth stood at 8 million tons in 2008 and reserves of light rare earth totaled 50–60 million tons, according to ministry data.